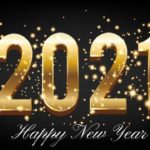 This year has been unlike any other that I can remember.  It has tested everyone in ways that were honestly unimaginable.  Hopefully in this mess of a year we can remember that there's nothing new under the sun and we will get through this.  Hopefully in 2020 we learned to appreciate some of the small stuff.  I know I did. My 2020 started off with a broken/dislocated ankle with a surgery that included plates and screws followed by months and months of physical therapy to learn to walk again.  This started just 2 weeks into the new year.  I should have known then.
As the year went on…I saw people in distress from this pandemic and it hurt my heart.  Everyone was suffering in some way and there was no end in sight.
In just one month of 2020 I lost the friendship of my best friend of 30 years, the man I was hanging out with decided "he's not my guy", I had a major surgery in an effort to prevent cancer…then I was in a car accident and my favorite band ended forever with the death of Eddie Van Halen.  Again…that was just ONE month of 2020!  By the time  of the car accident I just had to start laughing.  I was like SERIOUSLY?  What else?  This is beyond ridiculous.  I reminded myself that I can't control any of this stuff happening to me so…I just started to laugh and you know what?  I did and it felt GREAT.  (The guy who hit my car must of thought I was crazy for laughing- ha!)
Luckily I have my Faith to keep me going.  I actually feel blessed this year as I focus on the positive things in my life and remember to appreciate the small stuff.  God works in mysterious ways and I am now seeing reasons why some of this stuff had to happen.
For 2021 I wish everyone the power to stay positive.  Here are some words of encouragement to get you started in this new year.  We have no idea what it will bring but at least for now let's just say…Happy New Year Everyone!  May God Bless You and a new beginning.