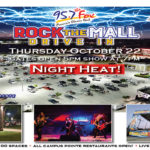 95.7 The Fox, Coors Light and Cloud 9 Productions present…
Rock the Mall – DRIVE IN! (Free Show)
Get ready to see incredible live music and have fun in your own space at CAMPUS POINTE @ Fresno State with food options, dancing and more!
Here are all the details:
Show Date: THURSDAY, OCT. 22nd – NIGHT HEAT – 7p to 9p
Drive in concert is first come first serve, gates open at 5pm.
There is only one entrance into concert area and it's
located on "Matoian Way" (see map below)
Once you enter, staff will direct you to a designated parking area. You may choose to stay in your vehicle or set up chairs next to vehicle
Please no tents, umbrellas, ice chests, outside alcoholic beverages or pets.
Food will be available for purchase at one of Campus Pointe's many on site restaurants.
(Information on food menu options will be handed to drivers as they enter)
We request that you stay in your designated parking "concert pod" area
where you may dance, sing and enjoy the evening's live music.
Current standard Covid 19 restrictions will be in place.
*entrance and view of stage are not guaranteed – please no gathering around stage area
For questions please e-mail Carter – carter@957thefox.com
CAMPUS POINTE @ FRESNO STATE
3090 E Campus Pointe Dr, Fresno, CA 93710