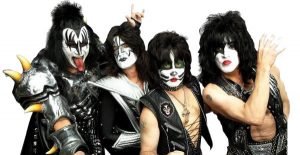 95.7 The Fox welcomes KISS to The Save Mart Center on Friday, February 8th!  This is their last Fresno appearance ever so don't miss out!
LISTEN TO WIN TICKETS
WITH THE KISS SONG OF THE DAY
Listen to The Bob & Tom morning show each morning for Tom to announce the KISS song of the day.  When you hear that song be caller number nine at 559-229-4957 to win tickets to the show.  You will have multiple chance to win each day!
FIND OUT HOW YOU CAN OWN A PIECE OF "KISStory"
*contest runs 2/4/19 – 2/8/19 between the hours of 10 am and 7 pm.  Each morning Tom from the Bob & Tom Show will announce the song of the day (times will vary).  When that song is aired (times will vary) in it's entirety caller 9 will win a pair of tickets to the show.  There will be 10 winners for this contest.  Standard station rules  apply.  For a copy of these rules please visit The Fox Studios during regular business hours located at 1415 Fulton Street, Fresno, Ca. 93721.