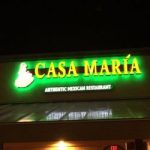 I was in the mood for some great Mexican food the other night. Unfortunately, I did not find it here. I had not heard of this place before and decided to give it a try. Located in the strip mall on the southeast corner of Miniwawa and Shaw this place has the look of an authentic Mexican food place. Looks can be very deceiving!
Service:
I was greeted right away by a pleasant young woman and shown to a booth. She asked if I would like a beverage. I ordered a soda and a water as well as some flour chips as I prefer them to corn.
Side bar note: next time you are at a Mexican restaurant, ask for flour chips. They are forking delicious!
I waited for a long time for my beverage. When it came I gave my order and asked when my chips would be out. She assured me they were on their way. The place was not very busy so I was puzzled at the time this was taking. When I finally got them, they were so burnt I couldn't even eat them. I looked at her like WTFork? She just shrugged and walked off. My food was taking so long that I asked her several times to check on it. I also noticed that other tables were getting their orders right away. I asked her why my salad had not been delivered and her answer, "Oh, I forgot". No apology, just I forgot. My food came 35 minutes later without so much as a simple "I'm sorry it took so long". When it came time for the check, I, again, had to wait for way too long.
Worst service ever!
0 Forks for service
Food:
As I stated in the service portion, I ordered the flour chips which were so over cooked they were inedible. For my main course, I ordered the 3-item combination, 2 enchiladas, a taco and bean and rice. This comes with a dinner salad. The salad was the only item ordered that was any good. The enchiladas had absolutely no flavor, I am talking none!!! The sauce was so bad, really forkin bad. It was a gelatinous blob that was congealing as it cooled down into a greasy mess of yuck! The taco was ok, pretty hard to mess up a taco but, again, no flavor whatsoever! The only good thing on the plate were the refried beans. I couldn't even eat the meal. For those of you who know me well, you know that does not happen often!
0 Forks for food
Price:
While the price I right and not over the top at all, the food and service are so bad that any price would be too much. Therefore, I have 0 forks to give as any price would be too much.
0 Forks for price
Overall:
This place is in serious need of an overhaul. While I was there I saw a woman, the owner I believe, set up a large table for a group of her friends. This table received excellent service as well as lots of personal attention. It was like a slap in the face to those of us waiting for over a half hour for our food. I was not the only customer who noticed this.
It has been awhile since I gave such a bad review and I really hate doing so. But this place, with its bad service and terrible food, just got forked.
I have no forks to give.
Until next time…eat well my friends,
Gigi Divine