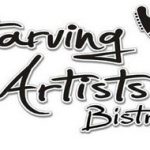 Located in the strip mall on the Northeast corner of Friant and Fort Washington, this little gem gives Fresno artists, musicians, and performers a stage and an audience to share their passion. Once seated you are treated to musical performances by several local artists all the while surrounded by art works created locally. There is plenty of indoor seating as well as a large outdoor patio.
Service:
We were greeted by a pleasant hostess and we opted for indoor seating. Side bar note: for my next visit, I think I will opt for the patio as the music, while not overly loud, made it a little difficult to have a conversation.
We asked for water and a cocktail and were told a server would be right with us. We waited quite a while and finally flagged a server. We ordered our cocktails and an appetizer. Both of which were brought to us quickly. Our server, while, pleasant, was not very present. I didn't quite understand this as there seemed to be more than enough servers on duty to handle the crowd. The other thing that I noticed was that none of the servers seemed to be happy to be there. Very few smiles and not much interaction with their tables. Odd since the whole atmosphere of the place is certainly welcoming and comfortable.

2 ½ forks for service

Food:
The menu is large without being too busy offering burgers, seafood, pasta, sandwiches, and even hot dogs!!! There are several large salads to choose from as well as a nice selection of entrees.
We chose the sweet potato fries served with chipotle aioli for our appetizer. Served fresh and hot these could have been a bit crispier but they were still delicious. And the chipotle aioli is to forkin die for!!!!!!
For my main course, I had the lemon artichoke chicken pasta. Described as pappardelle pasta tossed in a lemon cream sauce with artichoke hearts and topped with sliced chicken breast and parmesan I was excited to try this!! I was, sadly disappointed. The pasta was horribly overcooked to the point that it was just a huge sticky clump in the bowl. The lemon cream sauce was nonexistent making this dish horribly dry. There were artichokes on the bottom of the bowl but, again, without the sauce they had no flavor. The redeeming quality of this dish was the chicken breast. Cooked perfectly, sliced, and served atop the dish it was the best thing in the dish.
Also ordered was the Salmon with brown sugar glaze. This dish saved this place from a forkin horrible review. A beautiful, large serving of salmon with a sweet brown sugar glaze with hints of honey and Dijon this fish was forkalicious!!! The dish comes with your choice of 2 sides, we had the onion rings and rice both of which were fabulous! My dining partner orders this every time and stated that it is consistently good. I highly recommend trying this entrée!!
We were not offered dessert, and I didn't notice it on the menu but I did notice that there is a kid's menu.

3 forks for food

Price:
The pricing is great! Nothing on the menu is over 20 bucks with most items between $12 and $16.
5 forks for price!

Overall:
This place is kind of all over the place. It has a ton of potential to be over the top fantastic. The location, pricing and theme are a perfect recipe for success. But the food needs a little more refinement and the service definitely needs to improve. Once these two things are addressed this place will be packed!!! I, for one, will be back very soon to enjoy that wonderful salmon!!!

3 Forks Overall



Until next time…. eat well my friends,
Gigi Divine
divinedining95.7@gmail.com