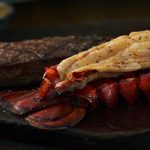 Remember when this place was "the place" to be on Friday or Saturday nights? Well, while it is not the poppin hangout it used to be it definitely is a place you want to be!  I was craving a good steak and I got that and more!!
Service:
We were greeted immediately by a pleasant server who told us the wait was about 25 minutes. We waited in the bar and had excellent service from the bartender. When our table was called our hostess brought our drinks and appetizer to our table for us. Nice touch. Our server was there right away and he was fabulous.  We never had to hunt for him and he kept our food coming at just the right pace.
5 forks for service!
Food:
We started out with crispy fried garlic pepper zucchini chips and added a sampler. The zucchini was forkin delicious! Cut thin, and lightly breaded these are a must try!! Also included in the sampler were potato skins, boneless hot wings, and shrimp cocktail. All were super delicious.
I ordered the New York steak with salad and loaded baked potato. While I am not usually a fan of this cut of steak, (I am a rib eye girl), I decided to give it a try. Holy forks am I glad I did!! A large thick cut of steak cooked to absolute perfection. It was melt in your mouth forkalicious!! The baked potato was also delicious, filled with sour cream, butter, and chives. I was so full but just couldn't stop eating!! Also ordered was the prime rib. If you're a prime rib fan then I highly recommend this!! Perfectly cooked to a juicy perfection. So tender you could cut it with a fork.
To finish off our meal we had the cheese cake. Smooth, creamy deliciousness!!
5 forks for food!
Price:
The restaurant offers a "campfire feast for two" that runs $58. This consists of an appetizer, two entrees and a dessert to share. Excellent deal but you can get the same deal with a coupon for $43!! Well worth the money either way you go!!
5 forks for price!
Overall:
Such a pleasant surprise to revisit this place and find it to be so great!! The staff is wonderful, from the hostess, bartender, server to the chef all were fabulous and friendly. When I have mentioned that I went there for dinner so many people said they thought the place was closed. Lucky for all of us steak lovers it alive and very well!!!! I highly recommend you try this place soon!!!
5 forks overall!
Until next time…eat well my friends,
Gigi Divine
divinedining95.7@gmail.com