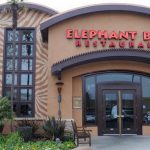 I have been enjoying a great streak of good places to eat as of late. Unfortunately, that streak has been forked. My partner in food, Amy, and I decided to go to the Elephant Bar since we hadn't been in such a long time. We were both looking forward to it as we both used to be big fans. Yea, not so much anymore.

Service:
The hostess was very pleasant and seated us right away in the bar area. We had our choice of places to sit as the place was just about empty.
Our server came to get out appetizer and drink order. While the water and cocktails were served promptly that is where the good service ended. When we finally got our meal, we asked for ranch and ketchup. After several minutes of watching our server make no attempt to get these items we asked her again to no avail. After a third attempt, we were approached by what I assume to be the manager who asked how our meal was. We told him how long we had been waiting for our condiments and he went and got them himself. Our server never came back to the table other than to bring the bill. The only reason that I can give any forks for the service is that upon reviewing the bill we noticed that our cocktails had been comped. No mention of it, or apology for the lousy service and, quite frankly, the server may have forgot to add them.

1 fork for service

Food:
We had the Zesty artichoke dip served with fresh tortilla chips. It was very good and server hot. Delicious. I ordered the French onion rib eye sliders. On the menu, it is described as tender ribeye with swiss cheese and caramelized onions and au jus. What was actually served were two pathetic looking tiny bread rolls with meat that was so over cooked it was crispy. The cheese was not melted and the onions were not at all caramelized. To top it off the au jus was nowhere in sight. The fries were cold to begin with and by the time we got our condiments they were inedible.
Amy had the Philly cheese steak. Again, nothing like the menu portrayed. Yes, it had bell pepper and onion but no mushroom or red pepper to be found. And served with the same forkin lame fries.
Again…the only reason I have any forks to give is because of the appetizer as it was the only good thing we had.

1 fork for Food

Pricing:
The pricing is a bit high and considering what we received, entirely too much!

I have no forks to give.

Overall:
This place used to have such delicious food! I don't know what happened but I, for one, am saddened by the decline. From the lousy service to the horrible food just an all-around cluster fork. I will revisit sometime in the future and I hope that my next visit finds this place in better form.

1 fork overall

Until next time…eat well my friends,
Gigi Divine
divinedining95.7@gmail.com