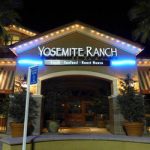 The day after my Birthday I was craving a steak. A really great steak, and I forkin' found one!!  I have been to the other two jewels in Mr. Franslers crown and felt it was only right to try the third. I am so glad that I did!!!!  Yosemite Ranch is located at the North East corner of Cedar & Shepard.
Service:
I chose to sit at the bar since I was dining alone this trip. The bartender was amazing. She had a semi full bar, surprising for a Sunday night, but made me feel like I was the only customer she had. One thing that scored HUGE forks up with me is that she made sure that my order was timed perfectly. One of my biggest pet peeves is when I order an appetizer and my salad comes in the middle of me eating it, then my meal on top of all that!! Not so here! Great job!!!
5 forks for service!!!!
Food:
I had the crispy artichoke hearts for my appetizer. They were a bit of a disappointment. While the lemon dill dipping sauce was ok the hearts themselves were not so good. The leaves were close to burnt making them tough and almost inedible. But that was the only bad choice of the evening. I ordered the Midwest 28-day aged rib eye which comes in 14oz or 20oz. Served with your choice of sides it is out of this world good. I had the grilled asparagus and loaded baked potato. They say you eat with your eyes first and my plate was beautifully prepared, so much so that the people next to me commented on how amazing my meal looked!! The food was even better tasting than it looked, if possible! My steak was cooked perfectly, melt in your mouth, medium rare with a light crust, the asparagus were tender and forkin delicious. The baked potato was huge and smothered in sour cream, fresh bacon, and green onion…forkin fabulous! While I was full to the brim, I had to order the cheesecake. The bartender boxed it to go as I couldn't possibly eat another bite. Later that night I enjoyed some of it and it did not disappoint although the crust was a bit dry causing it to crumble the cake itself was heaven.
41/2 forks for food!!
Pricing:
While the prices are not cheap, it is money well spent. The portions are large and ones really does get their money's worth.
5 forks for price!
Overall:
I had a really great time there! The saying, "you're not paying for your meal, you're paying for your experience" rings true here. The bartender is outstanding, keeping the bar free of empty glassware and dishes, bantering with customers and serving up great food. She definitely is a huge asset to this place. The atmosphere is forkin wonderful and cozy. Those of you who read my blog regularly know that I love Mr. Franslers other place, Pismo's, and gave them a great review. Westwood's…not so much. In all fairness to Westwood's, I never had the opportunity to taste the food as the service was so bad that we left.   I may have to give Westwood's another shot, if they have adopted some of Yosemite's style, it will be worth the second trip!!
5 forks overall!!





Until next time…eat well my friends,
Gigi Divine