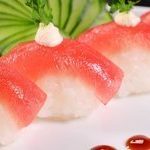 Hi fellow forkalicious food hunters!! If you like great sushi you must check this place out!! Located in the shopping center on the northeast corner of Champlain and Shepard this little gem has lots of comfortable seating inside as well as a sushi bar. The outside patio is the real treat. Lots of comfy couches and chairs for you and your party!
Service:
We were seated right away and gave our drink order. Bam! Got our drinks right away and placed our order for our appetizer. The food was brought out fresh and our, many, requests for extra wasabi, hot sauce etc. were met quickly and with a smile. Anna, our waitress, was fabulous! Funny and helpful with our choices as well as on point with her service!

5 forks for service!

Food:
We ordered the baked mussels for our appetizer. OMG!! Absolutely the best mussels I've ever had!! Served on large shells, cut into 3 pieces, drenched in a forkalicious sauce that you just have to drink every last drop of!! The rolls were great as well. We had the Hot Mess, crab shrimp tempura, avocado, cucumber, with spicy tuna, crunch and house sauce on the outside. Next was the Black Widow, soft shell crab, avocado inside. Outside, spicy tuna, chipotle sauce, unagi sauce, habanero, masago black tobiko. Super spicy and delicious!
Also ordered was The Titanic, crab, shrimp tempura, avocado topped with salmon, tuna, crab, house sauce. Super yummy!!

5 forks for food!!!

Price:
The pricing was about average when compared to other places I've been to. Not over the top. But the mussels, which were the best thing we had, were lower in price than most places! Go figure!!

5 forks for price!!

Overall:
Great time was had by all our party. The server made us feel very welcome and was on point. The rolls were fresh and yummy but what will bring me back again and again are the baked mussels!! Forkin addicting!!! Great job!!!!

5 forks overall!





Till next time my friends…eat well,
Gigi Divine
divinedining95.7@gmail.com