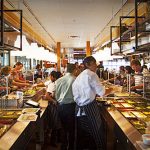 In keeping with my quest to find the best places to eat healthy I knew that I had to include this place. I have great memories of taking my kids here after little league practice, soccer practice etc. Even though the kids are now grown I still enjoy this place as often as I can with my grandson or friends. I hadn't been in a while but was excited to go. Sadly, the quality of my favorite salad place has declined drastically.
Service:
I was greeted when I walked in by a smiling young woman and I started down the line. The bar itself was clean and the food was fresh. The service at my table was, however, very poor. Not once did any of the bussers come to clear my table, I was forced to stack our dishes on the table next to ours. The biggest negative to the service came when we went to refill our plates. We left the table with the little card that read be ripe back facing the proper way as to let them know we were still there. My cell phone and keys were also on the table. I turned to look back at our table just in time to see a busser set a full tray of dirty dishes on our table. When the busser working with him pointed out my keys and phone and the card the first busser just waved his hand at it and walked away.  I was forkin floored!!! I was furious! We went back to our table gathered our things and headed out the door. On the way out I asked for the manager. I introduced myself and gave him my card. I told him that we had come to review his place and what had happened at the end of our visit. He was full of apologies but it was just too little too late.
No forks to give
Food:
Right out the gate we were disappointed as the main staple, Chinese chicken salad was not available. Super sad to not see that!!! The rest of the salad bar was great as always. Very fresh and delicious. The soup bar was another story all together. We tried several of the soups and while the chicken noodle was ok the clam chowder was very cold and the potatoes were very undercooked. The French onion, while nice and hot, was a huge disappointment. Very little flavor.
Also on the menu were lemon caper pasta and herb rice pilaf as well as the main staple, mac and cheese. The lemon caper pasta was really awful. Way too many capers that completely overpowered any other flavors in the dish. The rice was very bland and undercooked. The baked potatoes were good and hot with many choices for toppings and the herb focaccia bread was very good. I would love to tell you about our dessert choices but as I stated above…we left without eating them.
2 ½ forks for food
Pricing:
While the prices are a bit high you can go online thru your phone and get great coupons for family deals as well as one person deals.
4 forks for pricing
Overall:
As I said above this was a favorite place for myself and my kids thru the years. Sadly, it has fallen under poor management and not kept up in the quality department. While the salad bar itself is still very good the choice to get rid of the Chinese chicken salad is a poor one. I hope to try it again and find that things have been stepped up but for now…huge forkin disappointment.
2 ½ forks Overall


1/2
Until next time…eat well my friends,
Gigi Divine
divinedining95.7@gmail.com