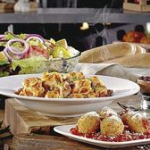 So, I know that I deemed January eat well month, but I couldn't resist the invite to this place!! I decided to use this outing as a way to show how one can still go out with friends and eat well!
Service:
The hosts that greeted us were efficient but not very welcoming. We chose to sit in the bar to wait for our table. After a lengthy wait with no server coming to our table I went to the bar. Again, efficient server but not much warmth. When I got back to the table my "partner in food" showed me that there was an electronic tablet on the table. After some exploration, we found that if one wants service to the table one must enter a request on this tablet. Now, I don't know about you but when I go out to a restaurant I want a server. Part of the whole eating out experience is the interaction with your server. So, this was a super negative.  We were seated without too much of a wait and our server, Lauren, immediately introduced herself and asked if we would like an appetizer. Lauren was the saving grace as far as service goes in this place. She was attentive and fun and while she had a lot of tables she was available to us whenever we needed her.
3 ½ forks for service
Food:
We had the three-item sampler, calamari, stuffed mushrooms, and breaded cheese sticks Served with tartar sauce and marinara. The lightly breaded calamari were delicious and perfectly cooked as were the cheese sticks. The mushrooms were a disappointment. They are served in a small baking dish with a ridiculous amount of oil. The stuffing was good but the oil in the dish really overpowered the flavor.
I ordered the shrimp and chicken pasta. Perfectly cooked shrimp and chicken breasts nestled atop linguini tossed in a very light cream sauce. Forkin delicious! I opted for the all you can eat salad and had several helpings so as not to eat too much pasta. The fresh breadsticks that they kept bringing out for us were impossible to stay away from. Warm, slightly salty, and soft super yummy! Also ordered was the portabella mushroom ravioli and the chicken and dumpling soup. The soup was like something one would find in grandma's kitchen on a cold day, forkalicious! The raviolis while flavorful, had a rather heavy sauce that didn't really seem to go with the dish. The whole meal was a mix of great and just ok.
3 forks for food
Price:
The pricing is very reasonable and the portions make it a great deal!
5 forks for price!
Overall:
This place was all over the board. My biggest negative was the whole computer server thing. They encourage patrons to order and pay thru this system. I am a people person so this really turns me the fork off. If I am going to a restaurant I want to be waited on by a human. To me, the interaction between a server and a table can make or break a place. Lauren, our server, was fabulous and is the main reason that I will be back for another round!
One more thought…I will not tip a computer!!!!!
3 FORKS OVERALL



Until next time…eat well my friends,
Gigi Divine
divinedining95.7@gmail.com