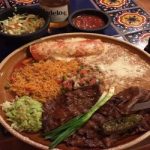 I had a craving for Mexican food the other night so my partner in food and I went to Hacienda Tequila. Located on Clovis ave between Barstow and Shaw in the old Casa Grande
building this is definitely a place to try!!!

Service:
I have nothing but wonderful things to say about the service here!!! From the moment we walked in we were treated to happy, fun banter from the hostess as well as the server. Service is on point, water, and cocktails right away as well as recommendations on the menu.
5 Forks!
Food:
Right away we were served chips and salsa and this wonderful slaw that consisted of cabbage and pico. Delicious!
We ordered the nachos for an appetizer as well as margaritas. The cocktails were off the forkin hook! Delicious, not too sweet concoctions with our choice of tequila, served in tall frosted glasses. The nachos came right away and they were yummy as well!! Just enough toppings to scoop up, add the slaw salsa and its heaven!!
We both ordered combination plates. I had the enchiladas, one beef one cheese and a chimichanga. While the ground beef in my enchilada was a little greasy and the cheese enchilada was a little greasy as well the chimichanga was fabulous!!!! The refried beans were smooth and creamy and the rice was light and fluffy. My partner in food had a taco, chimichanga and a burrito. She opted for the shredded chicken. It was cooked just right and the taco was light and crispy. The burrito was a little heavy but still very good.
The portions were very large so we had plenty of leftovers for later!!
4 1/2 Forks
Overall:
Wonderful place and we will be back, a lot!! The service is what puts this place over the top! I have always said that great service is key to a restaurant's success and this place is on the right forkin track!!!
4 1/2 forks!!
Till next time…eat well my friends,
Gigi Divine
divinedining95.7@gmail.com