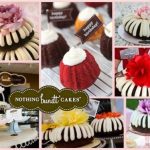 This review is a little different in that it is not about a restaurant but a bakery. I spotted this little gem located in the large shopping center on the northeast corner of Herndon and Willow. The place is in between the dollar store and Rue 21 clothing store. Now I am not a cake fan, never have been, frosting is forkin yucky to me. But this place may have just changed my mind!
Service:
I was greeted immediately when I walked in by a friendly woman who directed me to a sample table loaded with yummy treats. She asked if I had been in before and when I told her I hadn't she gave me a mini tour of what they had to offer along with a booklet and a treat card good for a free treat after so many purchases. (I shall be redeeming that soon!)

4 forks for service!
 Food:
In addition to the featured flavors, they have nine basic flavor choices and two different types of frosting to choose from. I went with the lemon and the pecan praline bundtlets, a smaller version of the large bundt cake. And I tried both kinds of frosting. Holy smoley!! These little bundts of heaven are forkalicious!!! Incredibly moist and packed with flavor I was forkin blown away! Both frostings were delicious but I did prefer the drizzle as I am not a huge frosting fan.

5 Forks for food!
Price:
The prices are varied, $4.49 for the little cakes that I had, serves two. They also have smaller, bite size cakes sold only by the dozen $19.75. 8 inch cakes run, (serves 8 to 10), $23.00. Then they have larger cakes as well as layered budnts and gift packs. A little pricey but still a wonderful cake!!

3 ½ Forks for price

Overall I really liked this place! I can't wait to go back and try some other flavors. Perfect with coffee!

4 Forks overall!!




Until next time…eat well my friends,
Gigi Divine
divinedining95.7@gmail.com