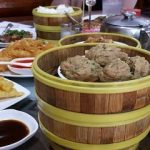 Hi friends!!! Well, my Mom and Dad wanted Chinese food for dinner so we hit up the Four Seasons, Located on the southwest corner of Herndon and Clovis Ave. While the location is a good one, the fact that they share the corner with In and Out Burger can cause a bit of a parking challenge at times.
Service:
After a few minutes we were seated, given menus and had our drink order taken. In addition to sodas and tea, both hot and cold, they offer a moderate selection of beer and wine. While the service was adequate it was not friendly. No smiles or conversation other than what was needed to get the order.
2 forks for service
Food:
The menu is very large and offers a large assortment of Dim Sum as well as a large choice of other appetizers. In addition to the single item orders they have 4 different complete dinner options to choose from. We chose Dinner A, Soup, fried wonton, fried chicken wing almond chicken, house special fried rice, house special chow mein and, sweet and sour pork. We also added a half order of the Chinese chicken salad. Once ordered our food came out very quickly. The soup had a great flavor and was good and hot. The salad is forkin fabulous  Large chunks of lightly fried chicken, crispy wontons and very fresh iceberg lettuce tossed in a wonderfully tangy dressing.  The wonton was a little thick and not very light and crispy as they should be. The chicken wings were just a bit over done but tasty non the less. The almond chicken was delicious. Served with an abundance of fresh vegies and tender chicken all tossed in a yummy sauce.  The house special fried rice was forktastic!!! Traditional fried rice with a special treat of tender, whole, seasoned shrimp. The house special chow mein was just as forkalicious with large tender shrimp and vegies in a wonderful sauce and served on pan fried noodles. My mouth waters just thinking about it!! The sweet and sour pork was a treat. More times than not, when I have ordered this dish it has come horribly tuff and overcooked. Not so here. The pork was cooked to perfection sweet and tender with a light breading and smothered in sweet, tangy sauce and pineapple. I will be having this again!
41/2 forks for food!
Overall this place is a great go to place for large families or parties as the portions are very large. One of the many dinner plates and the salad are more than enough for two hungry people as well.  The pricing is very reasonable so it won't kill your budget. And leftovers are almost guaranteed!
I will be back, fork in hand as I can't wait to try some of the dim sum. And, oh that wonderful salad!!!!
4 forks overall!!




Till next time…eat well my friends,
Gigi Divine
divinedining95.7@gmail.com