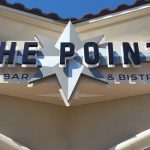 Hi friends!!! I had lunch at a new place called The Point. Located in the back corner of the strip mall on Willow and Nees, this place has utilized the very large space very well.   Wide open and very spacious the restaurant has a lots of tables and booths as well as a huge bar area which circles into a very spacious comfortable back patio which includes several couches. There are several T.V.'s in both the restaurant and bar with a varied assortment of sports playing.
Service:
Our server, while very nice, was not well versed on the menu items but did make the effort to find the answers to our questions. Our service was adequate but lacked an upbeat feeling.
Food:
The Bronx burger:   Served on a fabulously light grilled bun spread with house made Russian dressing, sauerkraut, grilled onion, pickles, Swiss cheese and pastrami join the party to create a serious taste explosion in one's mouth!  Served with your choice of fries, sweet potato fries, house chips or side salad this is definitely not a meal for the faint of heart!! I had the side salad. The salad itself was great, full spring and field greens red and yellow tomatoes, fresh carrots and cucumber and topped with house made croutons. The dressing was awful; we were told it was house made but this was not the case.
Also ordered:
The philly cheesesteak sandwich with fries. Again, wonderfully light grilled roll packed with well-cooked steak, peppers, onion and gooey cheese. The side of vegies were a sad disappointment. A smattering of very soggy soggy zucchini.
The chicken wings with a side of fries, as they do not come with them. While there is a nice assortment of sauces the serving was very small and the wings were seriously overcooked. The fries, however, were delicious!
Sweet potato fries: While some were crunchy most were wilty and soft. The basil aioli served with them was outstanding.
My critique of the bar is from an earlier visit. I ordered a very dry, dirty martini. I was not asked my preference of vodka but it would not have mattered as the drink was so ridiculously sweet I could not drink it. She was very pleasant about it and did remake it to my satisfaction. The people next to me had their order made incorrectly as well. While she is very nice and eager to please she is obviously not an experienced bartender. The bar itself is very well stocked and has a superb selection of high end spirits as well as several beers on tap and an extensive wine list.
Price:
The prices are all over the board. While the sandwiches and burgers were reasonable $11 to $12, the steaks seemed rather high starting at $29.
All in all, a nice experience. Would I try them again? AbsolforkinluteIy! I would like to try the dinner and the sliders that we saw at another table looked forkin' amazing!!
Overall rating: 3 Forks



Till next time…eat well my friends,
Gigi Divine