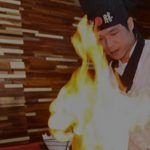 Hello Fox Fork Brigade!!! Today I am reviewing Kunisama teppanyaki/sushi bar located just south of Herndon on Willow.
Service:
Very friendly, fast and well versed on all menu items.
Food:
The Chicken salad is forkin' fabulous. Lots of well cooked, shredded chicken and greens tossed in their house dressing.  Salmon can be substituted for chicken as well. Large enough to share.
The Teriyaki Tri tip bowl is sooooo yummy!! Thinly sliced, tender tri tip on top of light and fluffy rice with a delicious teriyaki sauce. Served with a small cucumber salad this is a meal you will want again and again.
For sushi we tried 2 different rolls. The Kuni Roll- Spicy scallop, spicy tuna, fried panko breaded crab and cucumber on the inside. Yellowtail, avocado and spicy crab with wasabi mayo and spicy teriyaki drizzle on the outside. My mouth is watering as I write this lol!!! So forkin' good!!
The other roll was the Tiger Roll- Two pieces of shrimp tempura, crab salad and cucumber inside. Cooked shrimp and avocado with spicy aioli sauce and teriyaki drizzle on the outside. Again, so good!!!!!
For dessert we shared the Hawaiian bread pudding. This amazing concoction is house made and is served with vanilla ice cream and caramel drizzle. Even if you are stuffed this is a must try dessert!!! Large enough to share with at least one other person it is a forkgasmic creation not to be missed!!!!!
The prices are very reasonable as well. I highly recommend trying this place if you haven't already!
I give them an overall rating of 5 forks!!





Until next time…eat forkin' well my friends,
Gigi Divine