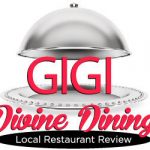 Welcome!!
Great atmosphere, fast and efficient service, fair price and, of course, fabulous food!
All the ingredients needed for a great meal with friends.
Let 95.7 The Fox's new blog, Gigi "Divine" Dining,
help you decide where to go!!
Several times a week Gigi will be blogging about restaurants
from all over the valley.
Restaurants will receive one to five forks, five being outstanding, in the following catorgories:
Service, atmosphere, price and the meal itself.
In addition to checking out our local eateries, Gigi will hunt down the
best burgers, salads, breakfast burritos ect. and keep you up to date on where to find them!!!
Make our blog a first stop on your way to having a great evening!!