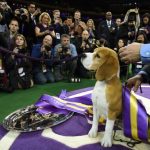 God in reverse is dog.  I know you've heard that one before but to me there is no greater creature on Earth than a dog
and Miss P, the 4 year old Beagle just stole the hearts of everyone in the world.
Read more
here
and then give your dog a big wet sloppy loving kiss…cuz they're the best!!