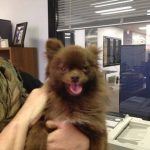 So…I got to work this morning and witnessed a brown Pomeranian running down Shaw Ave. Horror sets in as I have flashes in my head of her being in the middle of Shaw Ave…well you know where I'm going there.  In the split second that I saw this dog racing by I knew she was special. As an owner/member of the "tiny" dog breed it was my instinct to call out "come here baby!!!" the way I would call out to my own. This little slice of chocolate love came running right up to me as if I had just come home from a long day at work and she had been waiting for me by the door. I fell in love instantly. She was well trained, loving and had the personality and face that melted the hearts of even the biggest boys in our office. I knew the next step was to solicit help from my co-worker Michele. She has a heart of gold and I knew she would know what to do next. While we searched up and down left and right for an owner…this dog who we nicknamed "Chewy" (Star Wars fans unite) absolutely loved being here at the station. She walked around all areas of the building, in and out of offices and studios, paying visits to every employee and even guests that would come to the building. We were all enamored by this little ball of cuteness. We took her to the veterinary clinic across the street later in the day and….SHE HAD A CHIP!  I suppose I wasn't all that surprised because this wasn't just any dog…someone really trained and loved this dog. While I was so happy there was a chip a small part of me watched the idea of her being mine slowly fade away.  Turns out her name is Mocha…I like it…but she will always be Chewy to me. She is with her owner now and I'm glad.
I have gone through every emotion in the book today…Where will she stay tonight?  Should I keep her?  Should I give her to someone else? Does she have fleas?!!! 
 Is someone crying right now because they can't find her?  She has a chip!  She's been found!  I just lost her.  I'm exhausted from the roller coaster of emotions involving this little 5 pound package that came to me today but I wouldn't change one moment of it.
-Carter